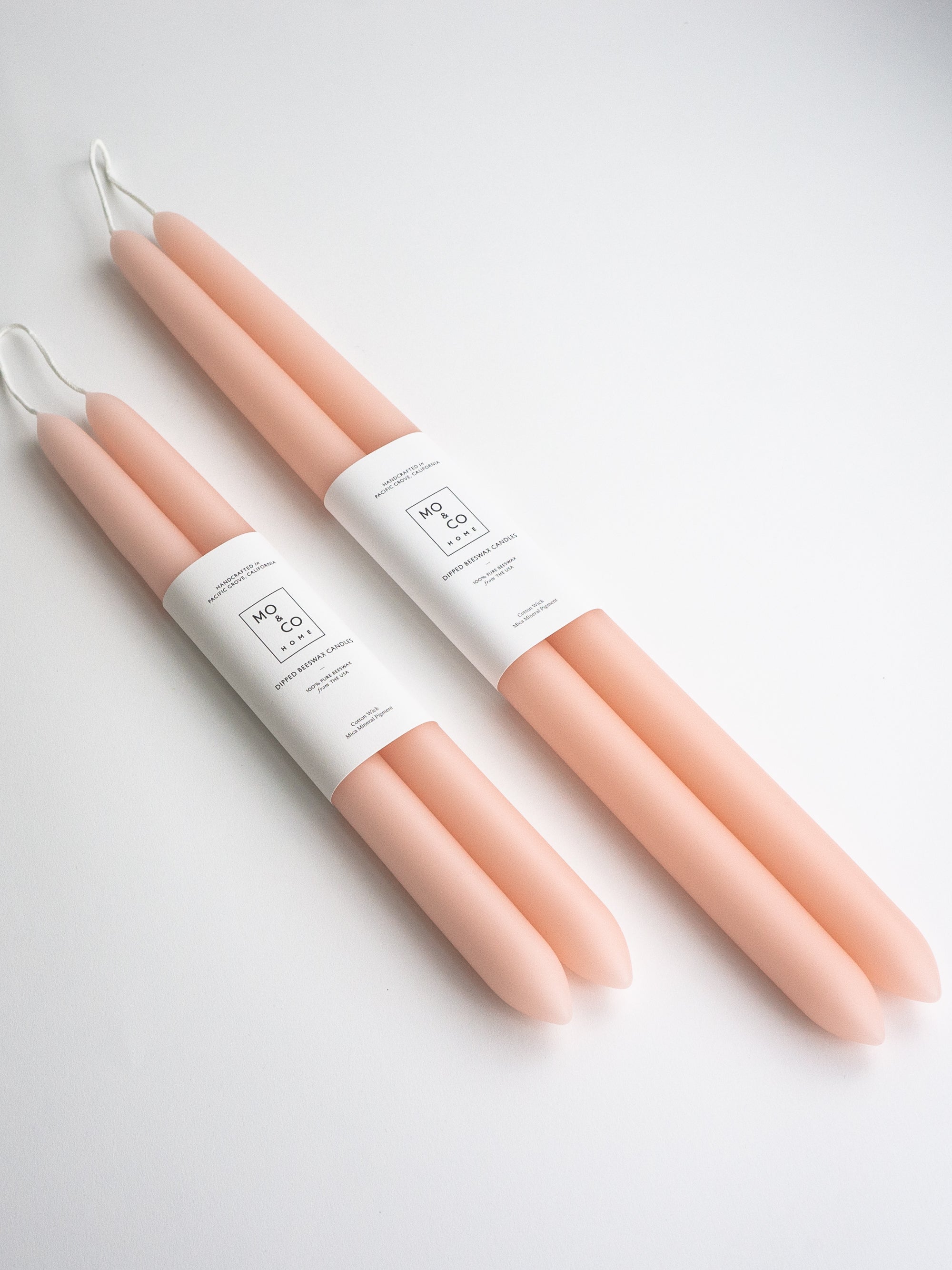 Pink Rose | Dipped Beeswax Taper Candles
Dipped Beeswax Candles | Pink Rose
Two Length Options: 10 inches & 14 inches
Sold in pairs
Ingredients:
100% Beeswax from the USA
Cotton wick
Mica minerals
Each candle is handcrafted with care and dipped over 25 times.
Why we love beeswax:
-When burned, beeswax candles emit negative ions that purify the air making it the cleanest burning wax available.
-When you purchase beeswax products, you are supporting the bee farmers who colonize and encourage bee reproduction.
-Beeswax naturally smells like honey and wildflowers!
♲ Candles ship in recycled packaging materials.
Made in Pacific Grove, California
Pink Rose | Dipped Beeswax Taper Candles
Burn Instructions
• Candles have memory, so every burn matters! To ensure a clean and long burning experience, please follow these burn instructions. 
• Trim the wick to 1⁄4" length before
Lighting.
• Keep candles away from wind and drafts.
• To avoid drips, it is best to use a snuffer to put out the flame rather than blowing it out. 
• To secure the candle to a holder, holdthe candle base to a flame and let acouple drops of beeswax fall into the holder, then hold the candle firmly in the holder upright until wax dries.
FIRE SAFETY
• Always burn within sight,
• Keep away from combustibles,
• Keep away from pets and children.
Impressed!
I've never been as impressed by taper candles as I am with these! They burn perfectly and really last. I will be buying more!